Spicy Vegan Tofu Burrito Bowls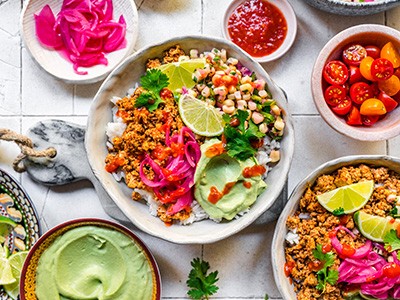 Ingredients
For Tofu Ground "Beef":
1 14 ounce package Woodstock® Firm Tofu, pressed and crumbled
2 tablespoon vegetable oil
1 tablespoon low sodium soy sauce
2 teaspoon chili powder
1½ teaspoon cumin
1 teaspoon salt
1 teaspoon brown sugar
1 teaspoon dried oregano
½ teaspoon garlic powder
½ teaspoon onion powder
½ teaspoon smoked paprika
For Avocado Cashew Crema:
½ cup Woodstock® Unsalted Whole Cashews, soaked for 2 to 3 hours in room temperature water
½ cup Woodstock® Frozen Diced Avocado, thawed to room temperature
2 tablespoon fresh cilantro
1½ teaspoon salt
¼ cup water
For Corn Salsa:
1 10 ounce bag Woodstock® Frozen Super Sweet White Corn, cooked according to package directions and cooled to room temperature
1 medium jalapeno, finely minced
¼ cup diced red onion (fresh or pickled)
2 tablespoon fresh cilantro, finely chopped
2 tablespoon freshly squeezed lime juice
½ teaspoon salt
For Serving:
Cooked white or brown rice
Woodstock® Habanero Pepper Hot Sauce
Pickled red onion
Directions
Tofu:
Drain tofu and wrap in a clean towel or paper towel and set something heavy on top, like a cast iron skillet. Press for about 20 minutes to release excess moisture.
Add 2 tablespoons of oil to a large skillet over medium-high heat. Using your hands, crumble the tofu directly into the skillet. Sauté for 3-5 minutes, stirring often.
Add in soy sauce, chili powder, cumin, salt, brown sugar, oregano, garlic powder, onion powder and paprika and stir well. Continue cooking for 4-6 minutes, stirring often, until tofu is lightly browned and crispy.
Avocado Cashew Crema:
Soak cashews in room temperature water for 2-3 hours, then drain and rinse.   
Add cashews to a high-speed blender with avocado, cilantro, lime juice, salt and water. Blend until smooth and creamy.
Corn Salsa:
Add all ingredients to a mixing bowl and stir well to combine.  
Serving:
Serve burrito bowls with cooked rice, tofu ground "beef", corn salsa, avocado crema, pickled onions (optional) and hot sauce.